Hallowe'en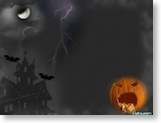 Hallowe'en is a special ghost festival. It happens on the night of 31 October. People wear special clothes at Hallowe'en. They tell ghost stories and play games
.

Hallow'en is very popular in the USA. Children visit the houses of their neighbours. They wear strange costumes and say 'trick or treat? The neighbour then gives them a 'treat' or something nice. This could be a sweet or an apple.
The Jack-o'-lantern is a popular part of Halloween. This is a pumpkin with a face carved out (see picture above). Inside the pumkin there is a candle. The candle is to frighten the witches away.

Another tradition is a special Halloween cake. This has a silver coin inside. When the cake is cut, someone finds the coin in one of the pieces. This person will become rich.

Today Halloween is a fun festival. But in the past it was very frightening. People called it 'The night of the flying witches.' They thought these witches could do terrible magic. They lit fires to frighten them.
.
Q:
Where do mummies go for a swim?
A: To the dead sea.
Q:
Mommy, Mommy, the kids all call me a werewolf.


A:

Don't listen to them, dear, now go and comb your face.
Q: Why should a skeleton drink 10 glasses of milk a day?
A: It's good for the bones
Q: What is a young skeleton?
A: A skeleteen.
Q: Where does Dracula keep his valuables?
A: In a blood bank.
Q: How does a witch tell time?
A: She looks at her witch watch.
Q: What do ghosts serve for dessert?
A: Ice Scream.
Q: Where do ghosts mail their letters?
A: At the ghost office.
Q: How does a monster count to 11?
A: On his fingers.
And more:
...Need ideas for easy homemade Hallowe'en costumes?
SOOO... Happy Hallowe'en, and HAVE FUN!